PoolTogether Community Newsletter #11
PoolTogether 2021 in Review, Live on Avalanche, Introducing Pool Explorer, PoolGrants Q3M1, Welcome Wagon arrives
Happy New Year, Poolers 🌊🏆
We always spend a lot of time looking forward but we shouldn't forget to take a break once in a while to look back and reflect.
A ton has happened in 2021. Our last Community Call and Holiday Hangout brought up a lot of memories from that time.
PoolTogether 2021 in Review
Today the Flippening is at 64% with a total of >$69 Million in deposits. A year ago PoolTogether was still in its V3 with only two prize pools on a single network: Ethereum. Since then we first cracked $100,000 and then $1,000,000 in weekly prizes.
A lot - let me repeat that: A lot has happened in 2021.
... and just before Christmas we went live on Avalanche.
PoolTogether has hosted pools for Barn Bridge (BOND), Rari Capital (wETH), BadgerDAO (BADGER), Index Coop (DPI), SushiSwap (SUSHI), OlympusDAO (sOHM), USDC, USDT, DAI, COMP, UNI, GUSD, cUSD, cEUR, CAKE & wBNB.
PoolTogether was featured in Fortune Magazine, on Nasdaq, the Financial Times, Bankless, Cointelegraph, Messari, Decrypt, Accelerated Capital, Coindesk, A16z, einvestidor, iProUp, ConsenSys & many more.
That's something to chew on. I still can't believe how long this list of achievements and contributions has gotten. I applaud all of you who contributed in any kind in 2021. You are amazing and outstanding. Thanks for being true poolers!
Let's keep this vibe machine running, revisit what we've done already and pick things up from where we left them. LFG 2022!
As if that's not enough, here's your Newsletter:
We are live on Avalanche! 🔺
Oh, I'm excited about PoolTogether and Avalanche, and Avalaaaanche! This song won't leave my head. We're now almost two weeks into the launch on Avalanche. Right now 375 players have more than $1.1 Million USDC deposited, winning daily prizes!
Deploying on Avalanche also means entering a whole new ecosystem of DeFi protocols, NFTs & people from all around the world. Now what? We all can help make PoolTogether an indispensable part of this ecosystem in many ways. You can do your part by talking about the launch on socials like Reddit & Twitter, writing articles & producing content, sharing memes, showing your artsy side, being active on Discord servers of other Avalanche projects, and in many more ways.
Introducing the Pool Explorer 🔍
Do you remember Elated Kowalevski? It's back under a new name and better than ever. We can now proudly present https://poolexplorer.win, just another project by community legend underthesea.
The Pool Explorer supports all networks from the Prize Pool Network (namely Avalanche, Ethereum & Polygon) and allows you to browse depositors, winners & prize claims.
PoolGrants
The Grants Committee is one of the drivers of the PoolTogether DAO. Lots of the great stuff that happened around PoolTogether in 2021 was only made possible due to funding by PoolGrants. They have just published a blog post to keep us updated about their recent doings:
PoolGrants Holiday Hot Tub — Q3M1
Call for Applications and RFPs
If you have an idea that could bring value to PoolTogether, please apply for a grant using the application form on PoolGrants.org
If you don't have any ideas yet, maybe you can be inspired by browsing through the RFP page, the Governance Forum or joining one of our weekly Community Calls & Swim Meets.
Welcome Wagon arrives 🚂🎁
Christmas is the time to be grateful and give back. What a perfect timing for the Welcome Wagon to arrive! The Welcome Wagon is a community effort to support the DAO Onboarding and enforce positive behaviours on the Discord server. If you do good - you shall be tipped!
The idea originated from the Other Internet presentation on November 24th and is funded by the Grants Committee.
Passengers of the Welcome Wagon: Oops, BRONDER, Mkkoll, Torgin, Tjark, DaBoom, underthesea, Taliskye, Andy Kaufman
How to use the Avalanche Bridge 🌉
Got all those funds sitting on Ethereum but don't want to pay for those nasty gas fees? Why don't you transfer some of that 🍞 to Avalanche via their Bridge? I've posted a quick how to on Twitter:
PoolTogether Community Podcast 🎙️
We all know Smart Investor from his Community Interviews and his active participation in the PoolTogether DAO. He is now bringing us the The PoolTogether Community Podcast: a weekly recording of conversations between SmartInvestor and guests from the PoolTogether community and ecosystem.
Listen to the first episode on Substack and join in live on Wednesday's at 6:30pm GMT / 1:30pm EST.
Avalanche Hype & Vibe Launch Contest 💃🕺
We had an impromptu Avalanche Hype & Vibe Launch Contest on Discord and loads of great submissions came out of it. Here's the winners:
Memes
1st Winner: tim 🌊🏆
2nd Winner: JD📈
3rd Winner: BRONDER 🌊🏆
4th Runner Up: Kote 🌊🏆
5th Runner Up: neken🌊🏆🍀
Artwork
1st Winner: Bambi
2nd Winner: StarTreeTV🌊🏆
3rd Winner: Noxe
4th Runner Up: Leo 🇦🇷 🌊🏆
5th Runner Up: Torgin 🌊🏆
All participants who sent in a submission but did not win received 1 POOL for being awesome! No Loss! Let's keep the vibe machine going, my people.
Protocol Coverages at Armor.Fi, Insurace.io & Nexus Mutual
I'd personally say PoolTogether is one of the safest DeFi protocols there is. If you're a person that still likes to be on the safe side, you now have the agony of choice between three great Smart Contract Risk Insurance Covers: Armor.fi, Insurace.io & Nexus Mutual
3/ Newly Covered Protocols at

@ArmorFi

#DeFi

#coverage

, pt2:

@NotionalFinance

v2

@PopsicleFinance

@OlympusDAO

@ribbonfinance

v2

@PoolTogether_

v4

@traderjoe_xyz

Purchase arNFTs at
armor.fi/mint
to start receiving #DeFi #coverage for these new protocols!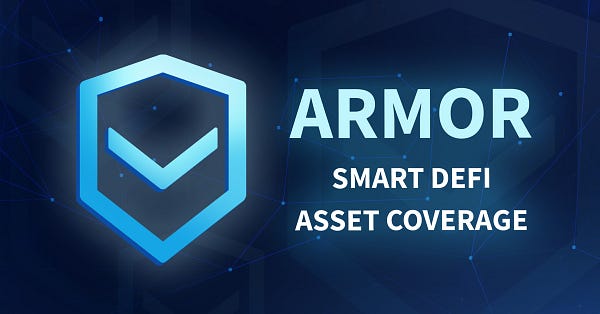 Armor.Fi
Armor is a decentralized brokerage for cover underwritten by Nexus Mutual's blockchain-based insurance alternative
armor.fi
To learn more please check out each protocol's respective documentations.
PoolTogether is now tracked on DeBank.com
Another one on the adoption side. Track your PoolTogether deposits on DeBank!
PoolTogether's portfolio is now tracked on
debank.com
! (
@avalancheavax
version) Hat tip to all
@PoolTogether_
voters! $POOL
debank.com/vote/7866
What's DeBank?
DeBank is a DeFi portfolio tracker that supports the largest number of DeFi protocols across 17 chains.
Listen 🎧
🌊 PoolTogether Community Call & Swim Meet #41
📻 All PoolTogether podcasts in one playlist
Read 📚
⁉️ PoolTogether Community Interview #11: Neken
⁉ PoolTogether Community Interview #12: Diego Chippi.eth
⁉ Diretamente do Direito para DeFi by Diego_Chippi & Gustavo Barros
🎲 PoolTogether: The story of the no-loss lottery where everyone wins by TokenBrice
💡 PoolTogether: Combining Lotteries and Savings Accounts by Ohhh, I get it now...
🔮 No-loss Lottery is the Future! by Jack White
🎲 PoolTogether : L'histoire de la loterie sans perte où tout le monde (y) gagne by TokenBrice
Watch 📺
Prize Talk 🏆
Youuu knooow what time it iiiiiis? It's time for some winners! If you want to be on here just make sure to share your luck with others & tag @PoolTogether_.
Stay wavy & see you all around the pool 👋🌊🏆